This study program is not offered in English. For further information please visit the
German version
of the study program.
Robots, machine tools, motor vehicles and biomedical equipment – many technological achievements in today's world are inconceivable without mechanics, electronics, and information technology working together smoothly..

For this reason, the study program in mechatronics is designed to be interdisciplinary by uniting the disciplines of mechanical engineering, electrical engineering and information technology. This means we educate generalists capable of mastering complex technological processes in a holistic manner. Consequently, this study program is supported by the mechanical engineering faculty and the faculties of computer science, electrical engineering, and information technology.
An interest in technical systems and machines
An affinity for mathematics and software engineering
A passion for control of technical systems.
Accreditation

The quality of this degree program has been certified.
Contact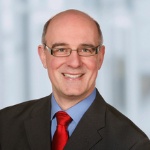 Michael Seyfarth
Dipl.-Ing.
Academic Senior Councillor, Student Affairs
Alexander Verl
Prof. Dr.-Ing.
Dean of Undergraduate and Graduate Studies