Information Technology is not only enabling technology but also a driving force behind our society's transformation towards an "information society". Computer, Communications, Micro- and Optoelectronics, Embedded Systems and their interaction as well as Computer Hard- or Software represent the technological building blocks, which are based on extensive research, to create solutions for the people of the information age.

The INFOTECH Master's program provides a unique blend of Computer Science and Electronics/Information Engineering courses within one program, enriched by non-technical courses that enable interdisciplinary education and the training of fundamental methods and scientific skills for research and development in information technology.
More detailled information on INFOTECH and the application process is published on the study program's website.
Prospective students require a Bachelor of Science degree (or similar) of an at least three-year course of study in the fields of Computer Science, Communications, Electrical and Electronics Engineering, Information Technology or Automation.
Graduates will find employment opportunities in research and development (R&D), technical management or business sectors of industrial companies around the globe or continue with their scientific qualification towards a doctoral degree.
As all Master's programs, this degree allows for pursuing a dissertation or further habilitation. For non-EU nationals it is the key for a work permit.
Studying abroad: what opportunities does the University of Stuttgart has to offer?
Are you interested in going on exchange for a semester or two? Or would you rather do some research or attend a language course? Have you ever thought of joining a Summer School or planned an internship abroad? Whatever you have in mind for your exchange, the International Office will help you make your stay abroad an unforgettable experience. The first step will be to sign up online for our information sessions at the International Office that are offered on a regular basis. We look forward to your registration!
Studying abroad


information sessions, partner universities, language requirements, application deadlines, scholarships
Application and admission: how do I get a place at the University?
---
Admission Requirements
Degree in a Bachelor of Science study program or another first degree from university in Computer Science, Software Engineering, Electrical Engineering, Information Technology or another study program with similar content and qualified exam results
Restricted admission (limited number of places)
An institute-specific selection process
The complete information on the admission process, required knowledge of English, and the criteria for the assessment of professional suitability can be found in the admission regulations.
Language Requirements
Good knowledge of English, proven with a language certificate
The study program is taught in English. For all accepted certificates please refer to the study program's website.
Application period for the winter semester: November 15 – February 15
Holders of Bachelor degrees from European countries are granted a later application deadline until July 15. The winter semester starts in October.
How is the program structured?
The Module Guide describes the modules and the required courses belonging to the module. The Module Guide (also called module handbook) is published in the Campus Management System C@MPUS [de] (please click as follows: choose the degree - click on the book behind the study program's name).
Accreditation

The quality of this degree program has been certified.
Contact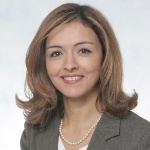 Emna Eitel
Dr.
Course Director INFOTECH and International Study Manager; Gender Equality Officer Faculty 5