Stuttgart is a city of science - this is exactly what the second Stuttgart Science Festival wants to express.
The festival will feature lectures, workshops, discussions, presentations, guided tours and hands-on experiments, aimed at various target groups. A range of university institutes will also be making various exciting contributions.An important part of the festival is Science Day. Other university institutes will also be participating in this event.
Science and business work closely together in Stuttgart. The scientific institutions in Stuttgart are important drivers for the economy and form the basis for technological progress. In this way, they ensure growth and prosperity at the location and make Stuttgart one of the most innovative high-tech regions in Europe.
Sharing knowledge, researching together and developing solutions for today's and tomorrow's challenges - this is what the region's colleges and universities stand for. As part of the science festival, they not only present their current research as an answer to the pressing questions of the day, but also want to enter into dialog with citizens and show how new technologies and developments as well as findings from social science or artistic research can contribute to the future viability and sustainability of the region and society.
The University of Stuttgart is involved in many events and also invites visitors to Science Day on June 25 as part of the Science Festival. On this day, visitors can experience engineering, natural sciences, humanities and social sciences in an exciting, understandable and up-close way on the Vaihingen campus. On the Bachelor Application Day, which takes place at the same time, students can find out about the degree programs at the University of Stuttgart in a compact form.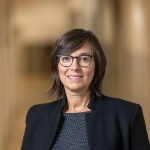 Claudia Berardis
Coordinator PR and Marketing, Online Editor