Beauty is taken into the outside world – the Study Gallery – the Stuttgart School
Bense's innermost desire was always to objectify aesthetic criteria. Thus the term "objective aesthetics" became the key concept in his artistic understanding.
The first exhibitions whose conceptualisation and organisation Bense was involved in were held in 1957 in cooperation with the "Gänsheide 24 Gallery", one of the few galleries at the time dealing with avant-garde art. Shortly afterwards he founded one of the first university galleries in Germany as part of the General Studies programme – the Study Gallery. It became an important forum for experimental art, with frequent exhibitions by internationally acclaimed artists. From 1965 the public were able to see a complete novelty: works of art that had been produced with the help of "computational processors", exhibited under the title of "computer graphics".
The "Stuttgart School" is further evidence of Bense's wide-ranging intellect. The school consisted of a group of artists, literary figures and "free-floating spirits" who were attracted by Bense's concept of aesthetics and his radicalism, and was thus a more non-university grouping. (The group's actual name was devised not by Bense himself, but by the author Manfred Esser, who spoke of the provocative theories of this Stuttgart school at a conference of the French "Tel Quel" group in Normandy, whereupon French and German newspapers immediately picked up on the term.)
The Stuttgart School's main achievements included the theory of "concrete poetry" (poetry using onomatopoeia and the arrangement of letters on the page for effect), which Bense had founded. In concrete poetry, poetry is created not in but with language, and is rearranged according to mathematical principles. A further focus of the group was the promotion of "impersonal" and – in Bense's terms - "artificial poetry": so-called stochastic texts generated with the help of mainframe computers.
Reinhard Döhl, an experimental author and Stuttgart Professor of Literature, who was closely associated with the group, later suggested that the term "Stuttgart School" should only be used for the academic work produced by Bense's institute, and to use the term "Stuttgart Group" instead.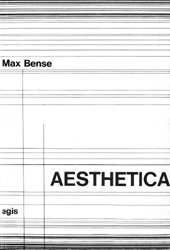 | | |
| --- | --- |
| | |