This study program is not offered in English. For further information please visit the
German version
of the study program.
In the additional subject Master's in Natural Science and Technology (NWT) (Teaching Degree), students acquire science-subject and subject-specific pedagogical skills in the natural science and technology fields. The conveyed course contents prepare prospective teachers for designing interdisciplinary, project-oriented NWT instruction as well as for inculcating a technologically-well rounded education while fostering the interests their pupils.
The additional subject NWT Master's program is always studied in combination with at least one of the natural sciences (physics, chemistry, or biology) within a standard teaching degree study program. By earning a second subject Master's degree, students gain the right to teach NWT as a third subject.
The additional subject Master's degree is always studied in conjunction with standard teaching degree studies. The Master's lets students achieve the right to teach a third subject.
Contact for further questions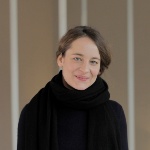 Dipl.-Biologin
Mira Latzel
Lehre, Forschung, Studiengangsmanagement, Praktikums- und Fachstudienberatung, BAföG Gymnasiales Lehramt Naturwissenschaft und Technik (NwT)